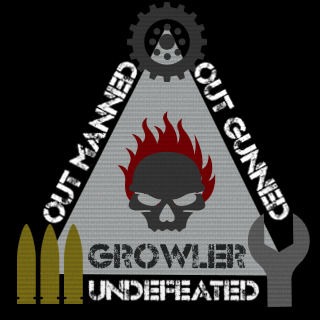 THE GROWLERS
Tag:
[GRWL]
Fans:
3
Created:
2012-03-07
Platoon Presentation
"My right flank is retreating. My left flank is withdrawing. My centre is disintegrating. Situation is excellent . I am attacking." - Ferdinand Foch 1914

"Audacity, audacity, forever audacity."
Napolean

In Battlefield 3 the ATV or "Growler" is a much maligned vehicle. Like the humans driving it, it was never built to last; it's relative frailty on the battlefield makes it's total destruction a question of "when" not "if". The 50 cal. on the back isn't much to be feared either; gunning from a moving platform certainly isn't easy and the gunner is hopelessly exposed when firing.

The Growler has one singular advantage the larger vehicles on the map lack : surprise. Having been relegated to the status of a glorified transport vehicle the growler is the perfect weapon for catching the enemy offguard. It's speed and small size allow it to move across the map, hide and get behind enemy lines with relative ease.

The Growlers revel in using the weakest asset in the game to pull down the strongest. Aggression is the cornerstone of true growling; thought is the antithesis of action. Growlers Do. We're not about throwing away assets however. Suicide jeeps are weak, they're a weak idea born of a weak mind. We get in close. We count coup. Besides who wants to kill "just one tank"?

How many tanks do we want to kill?

How many you got?

We steal assets, drop c4, slay giants, cap points, ride off into the sunset, fuck prom queens, chew concertina wire, piss napalm, shit rubies and fart diamonds.

We are the best dressed chicken in town.

And we're definitely coming for your fucking AA.

GROWLER SQUAD RULES

1. BE AGGRESSIVE.
2. PUNCH HITLER IN THE DICK.
3. IF YOU'RE RIDING SHOTGUN, YOU MUST HAVE A SHOTGUN.
4. NO JIHADS - YOUR JEEP IS MORE IMPORTANT THAN YOU.
5. ANY AND ALL DEATHS ARE TO BE CONTRIBUTED TO A LACK OF AGGRESSION.
6. WHEN IN DOUBT THERE IS NO DOUBT : BE AGGRESSIVE.
Platoon feed
There are no more events to show