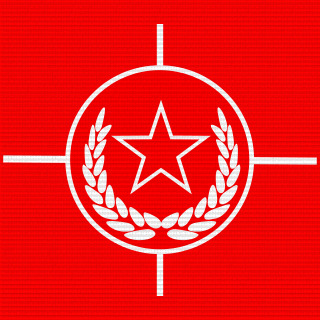 South Atlantic Treaty
Tag:
[SATO]
Fans:
8
Created:
2012-06-21
Platoon Presentation
Devemos proteger nossos territórios dos imperialistas que já mancharam nossas terras com sangue e petróleo! agora nós somos um único exército! uma união de nações que precisam se proteger da ameaça mundial! nós somos os novos guerreiros em busca da paz!!! nós somos a ORGANIZAÇÃO DO TRATADO DO ATLÂNTICO SUL.

--- SOBRE O CLAN---
A idéia é unificar todos os países do hemisfério sul para trabalharem em conjunto formando um exército universal! qualquer cidadao desses países estão convidados!
Nós prezamos mais as jogadas táticas e organizadas do que os melhores pontuadores, preferimos o trabalho em grupo do que a atuação solitária, prezamos o respeito e a camaradagem dentro e fora do combate!

podem contactar qualquer membro do clan para receber convites.

JUNTE-SE A NÓS SOLDADO!

---ENGLISH---

We must protect our territories of the imperialists who have stained our land with blood and oil! Now we are one army! a union of nations that need to protect the global threat! we are the new warriors in search of peace! we are the TREATY ORGANIZATION OF THE SOUTH ATLANTIC.

--- ABOUT THE CLAN ---
The idea is to unify all the southern countries to work together to form an army universal! any citizen of these countries are invited!
We cherish more the tactics played and organized than the best scorers, we prefer to work in group activities than solitary cherish respect and camaraderie in and out of combat!

may contact any member of the clan to receive invitations.

JOIN U.S. SOLDIER!

---ESPAÑOL---

Debemos proteger nuestros territorios de los imperialistas, que han manchado nuestra tierra con la sangre y el aceite! Ahora somos un ejército! una unión de naciones que necesitan para proteger a la amenaza mundial! somos los nuevos guerreros en busca de la paz! que son la Organización del Tratado del Atlántico Sur.

--- Sobre el clan ---
La idea es unificar todos los países del sur a trabajar juntos para formar un ejército universal de! cualquier ciudadano de estos países están invitados!
Apreciamos los movimientos y tácticas más organizados que los máximos goleadores, prefieren el trabajo en grupo que actuando solo, que valoran el respeto y la camaradería dentro y fuera de combate!

puede comunicarse con cualquier miembro del clan para recibir invitaciones.

JOIN soldado EE.UU.!
Platoon feed
There are no more events to show