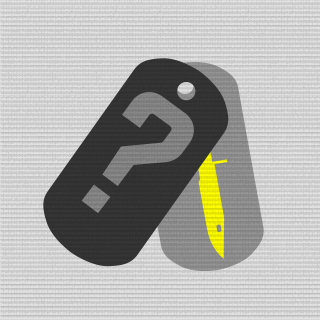 Tag fishing
Tag:
[TG]
Fans:
12
Created:
2013-07-16
Platoon Presentation
Bonjour et bienvenue.
-Welcome-

Cette section sera destinée à l'organisation des soirées de chasse aux dogtags.
-This platoon is for the organisation of the night tag hunting.-

Archie, Giolato et moi même avons eu l'idée d'organiser des soirées de chasse où chacun portera une plaque plus ou moins rare, une plaque qu'un ou plusieurs autres joueurs recherchent. Je ferai en sorte, graçe à mes pouvoirs d'administrateur, d'organiser les équipes pour que chacun ai sa chance de knifer le précieux sésame!
-During these events you'll wear the tag that someone is looking for and maybe someone will wear one for you! Everyone will have the chance to knife the precious tag-


Je vous invite à déposer un message lorsque un événement est annoncé et d'y préciser la ou les plaque(s) qui vous intéresse et bien évidemment ceux qui les possèdent d'y répondre!
-When an event is announced you can post a message and say which tag you miss.-

Pour plus de fun, il faut que tout le monde joue le jeu et aille vraiment à la marave. Je n'incite en aucun cas le "don" de dogtag où les joueurs se tournent le dos et sont cuttent.
-For more fun you have to go to hunt and go to the fight! Don't give your back to your enemies!-

N'hésitez pas à inviter vos potos à rejoindre la section, même si ils ne sont pas collectionneurs, ils peuvent avoir quelque chose qui nous intéresse.
-Invite your friends even if they aren't dogtag collectors. They can have something interesting for us!-


Je proposerai des dates quelques jours à l'avance et les parties auront lieu ou pas en fonction du monde présent.
-I'll post the date a few days before. You'll have to say if you can participate or not.-

Ces événements se dérouleront sur le serveur, dont le nom sera précisé le soir de l'événement.


SEMPER FI, Z.