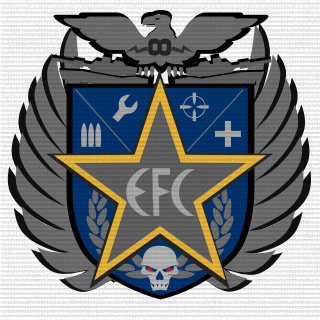 Euro Forces Confed.
Tag:
[EFC]
Fans:
24
Created:
2014-02-14
Platoon Presentation
We are a loose community of players, who do not like running lonely across the battlefield.
The gameplay in battlefield 3 lives on teamwork, so why running for yourself then?
If you like to play with others in a team and if you are a fair player, then you are welcome here.

Why "Euro Forces Confederation"?

Because our friends are from whole Europe....

We appreciate if you wear the tag [EFC] in combinition with your soldier name. So other players will see it in the score list during the game.
You can change the nametag in your profil settings before starting a game whenever you want.

We are no hardcore players at all, we have a "real life" too. So everyone can play whenever he wants.

We respect the rules and don't cheat.

Don't forget to join our Server:
http://battlelog.battlefield.com/bf3/servers/show/pc/863bab3d-ae79-43e4-bf4e-e80b82ae0cf2/Charlie-s-Frittenbude-Operation-Firestorm-2250-Tickets/

and feel free to sign up our Homepage:
http://www.charlies-frittenbude.net/

SO, FIGHT WITH PASSION, WIN WITH PRIDE AND LOSE WITH RESPECT BUT NEVER GIVE UP !


Platoon feed
I would like to request a (temporary) ban for the player Eph3r1on. He uses the tower glitch hardcore style.

English below. Hallo zusammen, hat ein Admin Zugriff auf die Logs des Servers? Denn bei der Runde "gerade eben" (16.09.2018 18:30Uhr), wurden die Tickets vom russischen Team von 644 auf 0 gesetzt. Entweder war es ein Admin, wäre mir aber neu, oder es war ein Hacker. Davon gab es auch während des Matches einen auf dem Server. Dieser hat stationäre AA in der Luft spawnen lassen. Damit man versteht was ich meine, habe ich noch die letzten Sekunden des Matches hochgeladen (siehe Link unten). Passwort: wtf Und während ich das hier schrieb, hat jemand an den Einstellungen rumgespielt (siehe Bild). Das beunruhigt mich.

Show 4 more...

seucherich

Hallo EFC - könnte mich mal jemand entbannen? gebannt wurde ich durch Picotrain79. welch ein Admin!! dem würde ich die Rechte entziehen. sorry für meine Beurteilung - ist aber so. ich war selbst mal admin im clan CP als seu...

English below. Hallo zusammen, ich hab gehört, dass der Spieler MeisDaMarkus von Charlies Frittenbude gebannt worden ist, weil seine K/H ratio über 700% über Durchschnitt ist. Das kann meiner Meinung nach nur daran liegen, dass er seit langen nur LAV spielt. Anscheinend werden keine Hits in Fahrzeugen gezählt, denn nur die Waffenkills (2360) würden ihm eine K/H ratio von ca. 20% geben. Damit wäre er unter dem Durchschnitt von 23,44%. Außerdem hat DRD-1972-PL, der ja immer Panzer spielt, ja auch eine K/H ratio von 690% über Durchschnitt. Ich würde daher um eine entbannung für ihn bitten. Er ist mir auch in der Zeit, die ich auf dem Server verbracht habe, nie als Cheater aufgefallen. Schwaches Argument, ich weiß. Vermutlich bekomme ich eins auf den Deckel, dafür, dass ich mich für einen Kameraden einsetze, aber na ja, ihr seid die Admins und ihr entscheidet. Ich wünsche euch noch einen schönen Tag.

Show 1 more...

Scientia_Humanus

Nachschlag: "Fresse! Du nervst!!1!" Ja ich weiß. ;) Wenn man mal 247FairPlay ignoriert und sich Battlefield 3 Stats (http://bf3stats.com/) ansieht, dann ist die K/H Ratio von MeisDaMarkus mit ~1,21% schlechter als Picotain...

Scientia_Humanus

Addendum: "Shut up! You suck!!1!" Yeah, I know. ;) If you ignore 247FairPlay and look at Battlefield 3 Stats (http://bf3stats.com/), the K/H ratio of MeisDaMarkus with ~1.21% is worse than Picotains (~2.53%), mine (~3.68%) and D...