This is October: Everything Premium this month

trydling

10 years ago


Here's a quick update on everything you get for being a Premium member this month. This includes details on this month's ingame competition, double XP event, and the upcoming Premium exclusive video.
Announcing the Air Kills competition
Thousands of players joined the September competition where we asked you to perform the most amount of kills in Tank Superiority mode. Now, let's switch focus from tank based combat and take to the skies.
Starting October 27th, the five players per platform who can rack up the most amount of kills from air based vehicles (i.e. jets and helicopters) in Armored Kill will be crowned the winners! 15 total winners will each receive a signed and numbered limited edition lithograph featuring artwork from Battlefield 3. This lithograph will only ever be printed in a run of 100 total units.
The way you join and take part in this competition is unchanged from last month. If you are a Premium member, you will be able to join our Premium specific servers via a password that you receive after having accepted the terms and conditions. We will supply terms and conditions and password closer to the start time of the competition.
For now, mark your calendars with the 48 hours of Saturday and Sunday October 27-28. Note that we use the UTC timezone to decide start and end times. Click this link to see when the start time corresponds to in your time zone. Technically, the competition will start already on Friday evening October 26 if you are located on the west coast of America, for example.
Stay tuned for the full details on his competition.


Halloween Double XP event
For this month's Premium exclusive double XP event, we decided to celebrate all the way from Halloween to All Saint's Day. For 96 hours straight, starting October 31, you get double XP for everything as long as you are a Premium member playing on Ranked servers. This double XP event will start 7AM October 31 PDT/3PM CEST October 31. Click the link to see what time this corresponds to where you live.
Aftermath gameplay trailer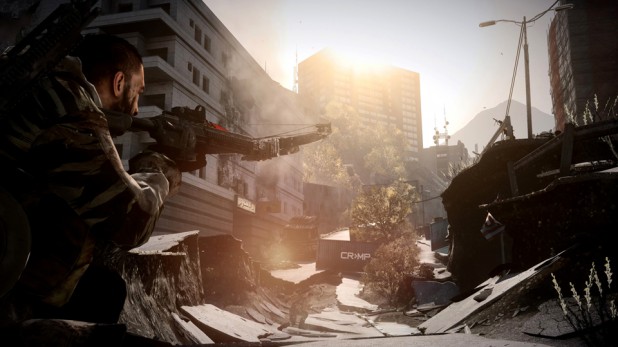 We have a nice video treat for our Premium members this month. On October 30, Premium members will have access to an exclusive video featuring gameplay footage from Aftermath, including shots of the all-new crossbow in action.
Soldier Upgrade
The October Soldier Upgrade was delivered automatically on October 1, featuring five new Premium exclusive Assignments tied to 5 new weapon camos: L85A2 Berkut, MTAR Woodland Oak, LSAT Digital Woodland, SKS Desert Stripe, and UMP-45 Berkut. As always, you can track your Assignments on Battlelog or the Battlelog Iphone app.