Make a Splash with Battlefield 4 Naval Strike for Free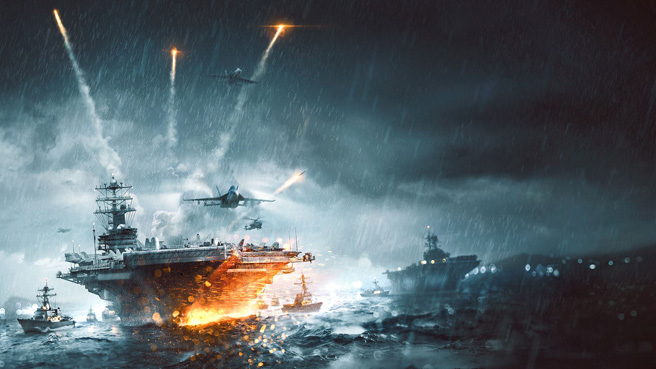 From July 19 to July 26, you can get Battlefield 4 Naval Strike for free*, taking the intense and dramatic water-based combat to the next level with a new amphibious vehicle and four all-new maps set in the South China Sea. But don't wait – after July 26, this offer will be landlocked. For more information and links to download, head over to the Road to Battlefield 1 page.
Four Naval Maps

Lost Islands, Nansha Strike, Wave Breaker, and Operation Mortar. These 4 all-new maps set in the South China Sea are designed for intense naval action among shipping docks, fishing villages, and rocky islands.

Carrier Assault

An homage to Battlefield 2142′s Titan mode, the Carrier Assault mode challenges you to bring down a huge aircraft carrier of the enemy team by launching missiles.

Ride the Hovercraft

Use the amphibious ACV Hovercraft to travel seamlessly between land and water, and take insane shortcuts to get the upper hand in the naval battles.
Community Mission: Boat Destruction

Jump into any Battlefield 4 multiplayer mode and map and collectively score 1 Million total Boats destroyed to get a Gold Battlepack**. This mission is active between July 19, 2016 9AM PT and July 26, 2016 9AM PT.

This is just the first step on the road…

There's more, too. Check back here every few weeks to see what's available for free, and keep an eye on Battlefield's Twitter channel to find out about upcoming 2X XP events, community missions, and more reasons to join us on the Road to Battlefield 1.

*REQUIRES BATTLEFIELD 4 FOR APPLICABLE PLATFORM (SOLD SEPARATELY), INTERNET CONNECTION AND XBOX LIVE GOLD ACCOUNT (FOR XBOX ONE AND XBOX 360).

**THIS OFFER IS BEING ISSUED TO YOU FOR PROMOTIONAL PURPOSES ONLY AND DOES NOT CONSTITUTE A CREDIT, CHARGE, DEBIT OR GIFT CARD. OFFER VALID FROM MAY 31, 2016 9AM PT TO JUNE 7, 2016 9AM PT. REQUIRES BATTLEFIELD 4 ("PRODUCT") ON APPLICABLE PLATFORM, INTERNET CONNECTION, EA ACCOUNT, AND (FOR CONSOLE PLAYERS) AN XBOX LIVE OR SONY ENTERTAINMENT NETWORK ACCOUNT TO PARTICIPATE AND ACCESS IN-GAME CONTENT. BATTLEPACK MUST BE CLAIMED IN BATTLELOG PRIOR TO END OF MISSION. PC PRODUCT REQUIRES ACCEPTANCE OF THE ORIGIN END USER AGREEMENT AND INSTALLATION OF THE ORIGIN CLIENT SOFTWARE (WWW.ORIGIN.COM/ABOUT). YOU MUST BE 13+ TO REGISTER. EA ONLINE PRIVACY AND COOKIE POLICY AND TERMS OF SERVICE ARE AVAILABLE AT WWW.EA.COM. SEE APPLICABLE END USER LICENSE AGREEMENT AND DISCLOSURES ON WWW.EA.COM/1/PRODUCT-EULAS. VALID WHEREVER BATTLEFIELD 4 IS OFFERED. LIMIT ONE PER PERSON. MAY NOT BE COMBINED WITH ANY OTHER OFFER, GIFT CARD, REBATE OR DISCOUNT COUPON. VOID WHERE PROHIBITED, TAXED OR RESTRICTED BY LAW.