Learn more about Dragon Valley 2015, coming to Battlefield 4 for free!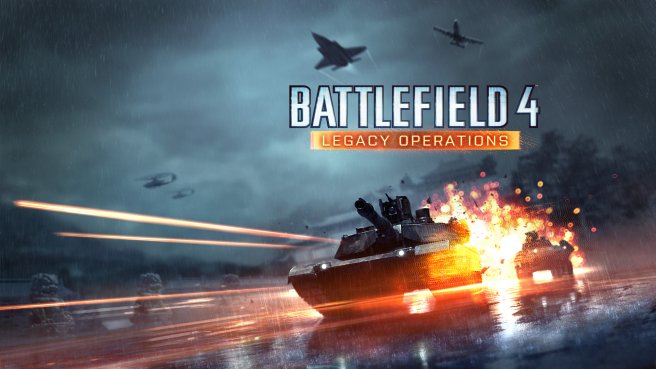 Last year, we asked the Battlefield community which classic map you wanted to be added to Battlefield 4, and your answers pointed us in one direction: Dragon Valley. Now, this map is being re-imagined as Dragon Valley 2015, for release on PS4, Xbox One and PC with the Legacy Operations DLC, free*  for Battlefield 4!
If you played Battlefield 2, you likely remember the map – it was huge, with a massive number of flags, and destructible and repairable bridges. Our goal for this map is to make a great, large vehicle map for Battlefield 4 but at the same time modernize the original where appropriate.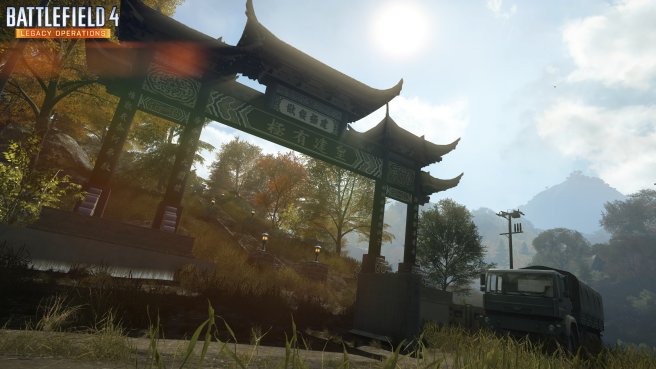 Some things had to change when reimagining the map. Battlefield 2 featured a poor draw distance (how far you can see in the game world) by today's standards, and the original map was built around those limitations. We tackled this in several ways: first we increased the terrain verticality to closer mimic a real life Chinese river valley – and to give us more terrain occlusion for long distances, especially on the central island. We also added a dynamic cloud layer, which not only adds a welcomed air-to-ground separation in terms of gameplay, but also helps shroud far distances at ground level. This has the added bonus effect of allowing you to have intense aerial firefights above the cloud level, which looks really, really cool in Battlefield 4.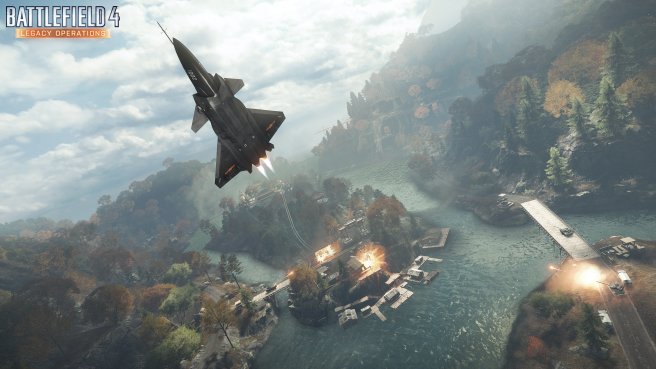 Destructible and repairable bridges, on the other hand, were something we didn't need to change a ton. They were something we felt had to be part of the map – this tactical element is a big part of what made the original fun – especially in the land armor department. We are happy to say that we will be bringing these bridges back – and they are a ton of fun to use!
Our Conquest setup has more flags than any other Battlefield 4 map in the game, to mimic the layout of old and get that same type of gameplay. It's also slightly asymmetrical when it comes to vehicle spawns at flags to mimic the Conquest Assault gameplay. We are extra excited to be able to include Rush on this map, which wasn't available as a game mode in the original. We think Rush combined with dynamic bridges brings something unique to the table!
And yes, you read that right: Battlefield 4 Legacy Operations is coming to PS4, Xbox One and PC. We really wanted to push the envelope with Dragon Valley 2015, and that meant being able to make a bigger level, with a larger scale than anything currently in Battlefield 4. Because of that, we made the decision to focus on the more powerful platforms. This doesn't mean we're no longer supporting players on Xbox 360 and PlayStation 3 with critical updates when needed, but we really wanted to try something big for Dragon Valley, and we think that when you play it, you'll see the difference.
Dragon Valley 2015 will be a part of the free Battlefield 4 Legacy Operations DLC, which will come out alongside the Holiday Update later this year (the DLC and the update are two separate downloads). We're really excited to share more about this content in the coming weeks.
See you on the Battlefield!
*REQUIRES BATTLEFIELD 4 FULL GAME ON APPLICABLE PLATFORM.
EXCEPT AS EXPRESSLY CREDITED, NO WEAPON, VEHICLE OR GEAR MANUFACTURER IS AFFILIATED WITH OR HAS SPONSORED OR ENDORSED THIS GAME.