Springtime for Battlefield 4 is packing a lot of heat! Read on to learn about what additions and updates the upcoming months have in store.
Community Map Project Update
One of the most exciting Battlefield 4 endeavors is the ongoing Community Map Project where you – the Battlefield community – are designing a multiplayer level together with us. In our first Community Map poll you decided on a jungle high-level setting, and in the second poll the top pick for Point of Interests ended up being waterfall, trailed by ancient ruins and ghost town. For more details, check out the open poll #2 results.
This is a great start – and your wishes have truly sparked our imagination going into production. Based on your input, we're putting together some map concepts, in which we will combine the high level framework, setting (jungle) and several of the top voted for Points of Interests.
In the next poll we want you to decide on which of these concepts you think we should pursue and take into production! Look out for more information on that next week, along with the actual poll.
Spring Update Brings Weapons Crate, New Game Mode
As you know, we're constantly tweaking Battlefield 4 gameplay with the help of your feedback and participation in the Community Test Environment. On top of this, we're also adding new features to the game. Hitting late May, the Spring Update will reinforce the Battlefield 4 toy box as well as fill it with new things.
For instance, we're throwing an old favorite from Battlefield 3 into the mix with Gun Master. In this mode, the goal is to earn kills with a set of pre-determined weapons, using one weapon at a time. When getting enough kills with one weapon, the player moves on to the next level and weapon. This continues until players reach the thrilling end round, where a Gun Master can be crowned by getting the final kill.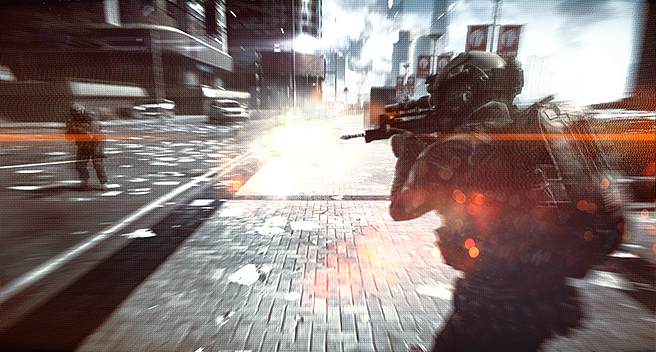 The Weapons Crate will contain five weapons new for Battlefield 4, including a classic lever-action rifle and a fan-favorite Russian assault rifle from a previous Battlefield game. Stay tuned for the exact content.
Speaking of guns, all the Battlefield 4 weapons have received a balance pass to make your firefights as fair as possible. The image below shows the different effects your weapon has on different ranges.

New weapon damage ranges and falloff/suppression model. More details on the balance pass can be found on Reddit.
More details about the Spring Update and other matters will come in time, so stay tuned to Battlelog. Enjoy springtime in Battlefield 4!
THE DEPICTION OF ANY WEAPON OR VEHICLE IN THIS GAME DOES NOT INDICATE AFFILIATION, SPONSORSHIP OR ENDORSEMENT BY ANY WEAPON OR VEHICLE MANUFACTURER.