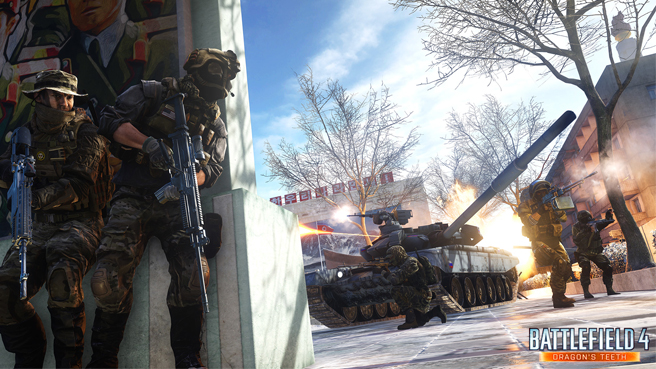 A new Battlefield™ is coming later this year, and we're celebrating by keeping the action going in Battlefield 4 and Battlefield Hardline. Over the next few months we'll be giving away previously released expansion packs for both games to anyone playing on Xbox One, Xbox 360, Origin for PC, PlayStation 4, and PlayStation 3. There are also new Community Missions and a whole lot more to get excited about. Let's take a look at what's going on right now.
From May 3 to May 10, you can get Battlefield 4 Dragon's Teeth for free. Engage in intense urban battles across four dense Asian Pacific maps in this infantry-focused expansion.
Four Urban Maps: Sunken Dragon, Propaganda, Pearl Market, and Lumphini Garden. These four maps are designed for urban combat among modern high rises, pristine parks, and bustling alleyways.
New Game Mode: Chain Link: Dragon's Teeth adds Chain Link, a game mode that brings another layer of depth and strategy to the multiplayer mayhem. Act fast and link together capture points to secure the win.
New Gadget: The R.A.W.R.: Among the gadgets added in Dragon's Teeth is the R.A.W.R., a controllable unmanned ground vehicle armed with a machine gun and grenade launcher.
Community Mission: Melee Kills
Jump into any Battlefield 4 multiplayer mode and map and collectively score 2.5 million Melee Kills to get a Gold Battlepack. This mission is active between May 3, 2016 9AM PT and May 9, 2016 9AM PT.
There's more, too. Check back here every few weeks to see what's available for free, and keep an eye on Battlefield's Twitter channel to find out about upcoming 2X XP events, community missions, and more reasons to join us on the road to Battlefield.