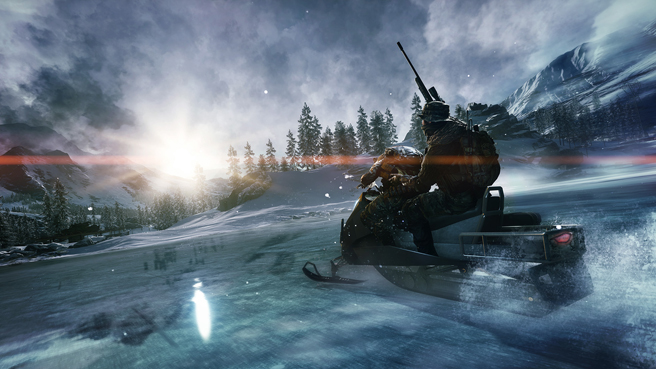 From May 17 to May 24, you can download Battlefield™ 4 Final Stand for free*, from Origin, PlayStation Network, and Xbox Live as part of the Road to Battlefield™ 1. In Battlefield 4 Final Stand, you can move the fight into the grand Russian wintry landscape. Make sure you get it quick, though – the future waits for no one, and after May 24, this giveaway will be a thing of the past. For more information and links to download, head over to the Road to Battlefield 1 page.
High-Tech Weaponry

Fight in secret military installations and get your mitts on high-tech prototype weapons like the devastating railgun Rorsch MK-1, that fires a single powerful ignited by kinetic energy.

Traverse the Snow

Use the Snowmobile or take helm of the experimental hover tank HT-95 Levkov, capable of versatile movement, to master the sub-zero landscapes and harsh blizzards of the four all-new maps.

Futuristic Gadgets

Gadgets and Battle Pickups like the flying, machine gun-equipped drone XD-1 Accipiter and the sneaky DS-3 Decoy Signal give you the upper hand on the Battlefield.
Community Mission: Bow Kills
Jump into any Battlefield 4 multiplayer mode and map and collectively score 500,000 total Bow kills to get a Gold Battlepack**. This mission is active between May 17, 2016 9AM PT and May 23, 2016 9AM PT.
This is just the first step on the road…
There's more, too. Check back here every few weeks to see what's available for free, and keep an eye on Battlefield's Twitter channel to find out about upcoming 2X XP events, community missions, and more reasons to join us on the Road to Battlefield 1.
*REQUIRES BATTLEFIELD 4 FOR APPLICABLE PLATFORM (SOLD SEPARATELY), INTERNET CONNECTION AND XBOX LIVE GOLD ACCOUNT (FOR XBOX ONE AND XBOX 360).
**THIS OFFER IS BEING ISSUED TO YOU FOR PROMOTIONAL PURPOSES ONLY AND DOES NOT CONSTITUTE A CREDIT, CHARGE, DEBIT OR GIFT CARD. OFFER VALID FROM MAY 17, 2016 9AM PT TO MAY 24, 2016 9AM PT. REQUIRES BATTLEFIELD 4 ("PRODUCT") ON APPLICABLE PLATFORM, INTERNET CONNECTION, EA ACCOUNT, AND (FOR CONSOLE PLAYERS) AN XBOX LIVE OR SONY ENTERTAINMENT ACCOUNT TO PARTICIPATE AND ACCESS IN-GAME CONTENT. BATTLEPACK MUST BE CLAIMED IN BATTLELOG PRIOR TO END OF MISSION. PC PRODUCT REQUIRES ACCEPTANCE OF THE ORIGIN END USER AGREEMENT AND INSTALLATION OF THE ORIGIN CLIENT SOFTWARE (WWW.ORIGIN.COM/ABOUT). YOU MUST BE 13+ TO REGISTER. EA ONLINE PRIVACY AND COOKIE POLICY AND TERMS OF SERVICE ARE AVAILABLE AT WWW.EA.COM. SEE APPLICABLE END USER LICENSE AGREEMENT AND DISCLOSURES ON WWW.EA.COM/1/PRODUCT-EULAS. VALID WHEREVER BATTLEFIELD 4 IS OFFERED. LIMIT ONE PER PERSON. MAY NOT BE COMBINED WITH ANY OTHER OFFER, GIFT CARD, REBATE OR DISCOUNT COUPON. VOID WHERE PROHIBITED, TAXED OR RESTRICTED BY LAW. NO WEAPON, VEHICLE OR GEAR MANUFACTURER IS AFFILIATED WITH OR HAS SPONSORED OR ENDORSED THIS GAME.