A thrilling new year of Battlefield is upon us. The beta and the March 17 release of Battlefield Hardline in North America and March 19 and 20 in Europe is closing in. 2015 will also bring new content to Battlefield 4. In other words, times are good for fans of all-out war!
In honor of these two magnificent games, we've prepped some surprises for you Battlefield 4 players: weekly treats with a Battlefield Hardline flair. Every Wednesday from now until March 17, we'll dish out all kinds of goodies, such as…
Gold Battlepacks
Community Missions
Hardline-themed Dog Tags
Exclusive wallpaper
…and more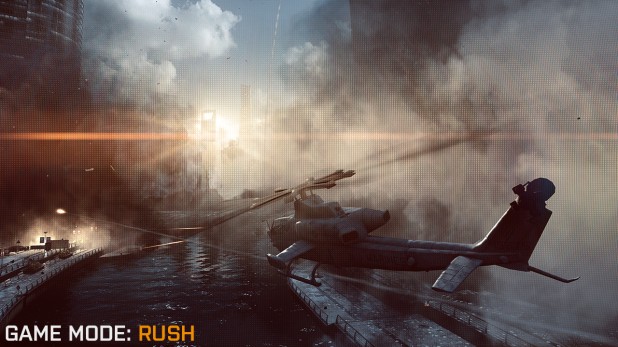 Unlock Heist Mode for the Battlefield Hardline Beta
One of the community missions starts this Wednesday, January 21 – and the reward is something special: the Heist game mode will be playable in the Battlefield Hardline beta if you succeed! Your mission? Work together and score 2 Billion points in Battlefield 4 Rush mode.
The community mission will run between January 21, 9 AM PST and Jan 24, 11:59 PM PST.
Good luck and stay awesome – and log in to Battlelog regularly so you won't miss any of the giveaways and events.
Catch the latest Battlefield Hardline news and trailers
Exclusive items for those who pre-order Battlefield Hardline
* THIS OFFER IS BEING ISSUED TO YOU FOR PROMOTIONAL PURPOSES ONLY AND DOES NOT CONSTITUTE A CREDIT, CHARGE, DEBIT OR GIFT CARD. THIS SEASON ON BATTLEFIELD 4 IS FROM JANUARY 21, 2015 AT 9AM PST THROUGH MARCH 25, 2015 AT 11.59PM PST ("PROMOTION PERIOD"). REQUIRES BATTLEFIELD 4 ("PRODUCT") ON APPLICABLE PLATFORM, ORIGIN ACCOUNT AND INTERNET CONNECTION TO PARTICIPATE AND ACCESS IN-GAME CONTENT. THIS SEASON ON BATTLEFIELD 4 COMMUNITY MISSION 1 IS ACTIVE FROM JANUARY 21, 2015 AT 9AM PST THROUGH JANUARY 24, 2015 AT 11.59PM PST. THIS SEASON ON BATTLEFIELD 4 COMMUNITY MISSION 2 IS ACTIVE FROM FEBRUARY 18, 2015 AT 9AM PST THROUGH FEBRUARY 24, 2015 AT 11.59PM PST. THIS SEASON ON BATTLEFIELD 4 COMMUNITY MISSION 3 IS ACTIVE FROM MARCH 18, 2015 AT 9AM PST THROUGH MARCH 24, 2015 AT 11.59PM PST. HEIST GAME MODE WILL BE UNLOCKED IN BATTLEFIELD HARDLINE BETA FOLLOWING THE END OF COMPLETED COMMUNITY MISSION 1. MORE DETAILS ON MODE UNLOCK WILL BE PROVIDED AT  http://www.battlefield.com/hardline/this-season-on AFTER COMPLETED COMMUNITY MISSION 1. GOLD BATTLEPACKS FOR COMMUNITY MISSIONS 2 AND 3 ARE AUTOMATICALLY ENTITLED THE DAY FOLLOWING THE END OF EACH COMPLETED COMMUNITY MISSION FROM 9AM PST TO 8:59AM PST. DOUBLE XP IS AUTOMATICALLY ENTITLED FROM JANUARY 28, 2015 AT 4PM PST THROUGH JANUARY 29, 2015 AT 15.59 PST AND FROM FEBRUARY 11, 2015 AT 4PM PST THROUGH FEBRUARY 12, 2015 AT 15.59 PST.  DIGITAL DOG TAG FOR BATTLEFIELD HARDLINE BETA PARTICIPATION WILL BE ENTITLED DURING NEXT BATTLEFIELD 4 PATCH UPDATE. COPS WALLPAPER WILL BE AVAILABLE TO DOWNLOAD FROM BATTLELOG.BATTLEFIELD.COM/BF4/NEWS/ FROM FEBRUARY 4, 2015 AT 9AM PST THROUGH FEBRUARY 28, 2015 AT 9AM PST. CRIMINAL WALLPAPER WILL BE AVAILABLE TO DOWNLOAD FROM BATTLELOG.BATTLEFIELD.COM/BF4/NEWS/ FROM MARCH 11, 2015 AT 9AM PST THROUGH MARCH 31, 2015 AT 9AM PST. EA ONLINE PRIVACY AND COOKIE POLICY AND TERMS OF SERVICE ARE AVAILABLE AT WWW.EA.COM. SEE APPLICABLE END USER LICENSE AGREEMENT AND DISCLOSURES ON WWW.EA.COM/1/PRODUCT-EULAS. VALID WHEREVER BATTLEFIELD 4 IS SOLD. CODE MAY NOT BE SUBSTITUTED, EXCHANGED, SOLD OR REDEEMED FOR CASH OR OTHER GOODS OR SERVICES. MAY NOT BE COMBINED WITH ANY OTHER OFFER, GIFT CARD, REBATE OR DISCOUNT COUPON. VOID WHERE PROHIBITED, TAXED OR RESTRICTED BY LAW.